The turnkey application for all your business trips
A hybrid tool, both software and mobile application
An inventory of global suppliers united on one platform
A modern design that streamlines the booking process
A team adoption rate of over 90%
Technology at the service of the traveler experience
A tool that relieves the daily life of travel managers
Thepro travel agency that reinvents corporate travel management with a simple, intuitive platform.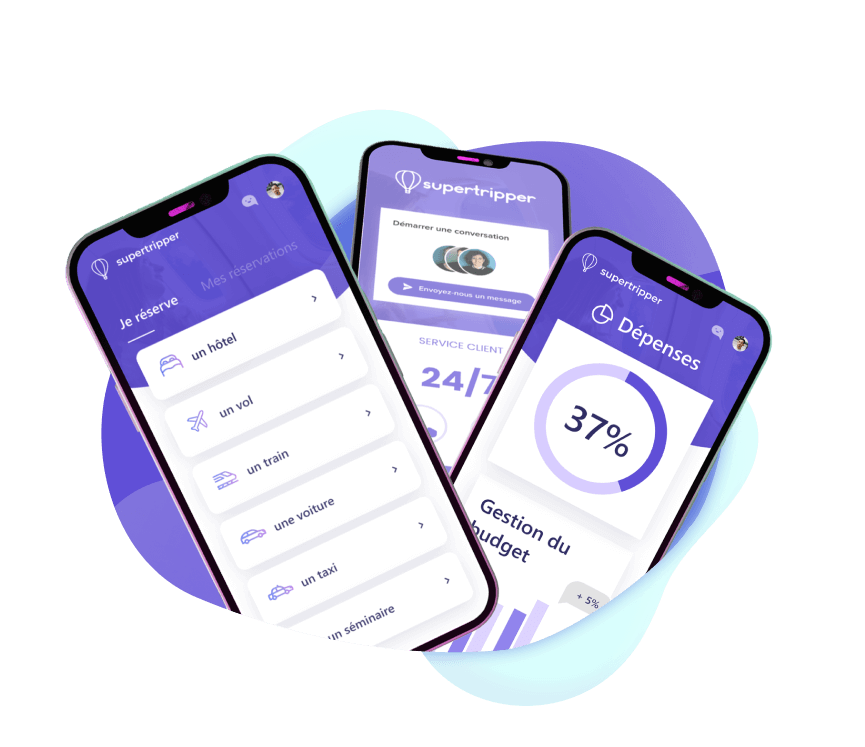 The Saas booking software that modernizes
business travel management
Offer yourself the best digital solution to easily book and plan your teams' business trips.
The alternative to traditional travel agencies
Our goal: to modernize business travel. Our ergonomic platform associated with the best customer service in the sector allows you to calmly manage all your business trips.
Our priorities: saving time for all our users and peace of mind for travel managers, financial services and business travelers.
From improving the traveler experience to saving strategies, Supertripper helps you travel differently!
The B2B travel agency
new generation
We set up your business account with you in a few minutes and we deploy Supertripper to your teams, with the help of our professional travel management specialists.
From their first connection, each new user is guided to get started quickly with our platform. We support you from A to Z.
In less than a day, equip all your employees and start booking without wasting time.
A winning choice for all
thanks to our Saas software
Our strong point: we are constantly at your disposal to develop the Supertripper ecosystem, with the aim of delivering the best business travel management tool.
Our vision: to make travel an experience as enriching for the business traveler as for the company, thanks to a powerful and intuitive platform.
No matter the size of your company or your sector of activity, our tool adapts perfectly to your environment.
A mobile travel management application
professionals acclaimed by users
From CFOs to business travelers and travel managers, the Supertripper platform integrates all the key features to help all teams easily manage all business travel issues.
An unrivaled user experience
We put the traveler experience at the heart of our professional travel management software and application. In just a few clicks, book your hotel room or e-ticket. Edit them or access your account settings without any friction.
Guaranteed efficiency and compliance rate
From your 1st day of use, you will feel the difference. In addition to an intuitive digital tool, benefit from the help of experts at your service, progressive support and precise recommendations for immediate results. On average, our customers reduce their management costs by 20% and are 97% satisfied.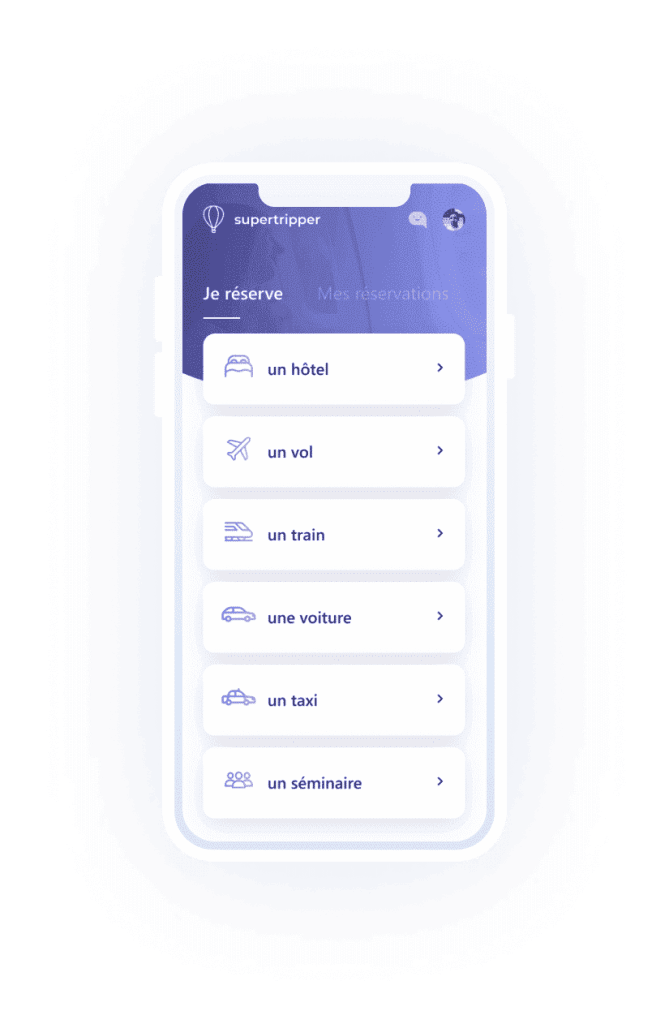 Incredibly easy navigation
Our technological solution dedicated to the management of professional trips is extremely easy to use. Available on computer, tablet or mobile version, you will be seduced by the ease of use, both on the smartphone application and on your desktop.
A unique degree of customization
Because there is nothing more frustrating than a rigid management tool, you can customize many features on our responsive interface. Add billing entities, change your travel policy, integrate key information specific to your company or define your validation circuits as you see fit.
On mobile or desktop, your reservations for flights, trains, hotels ...
as easily as on conventional travel sites.
Better than comparators
online
With Supertripper, no need to waste time with online comparators. Access the most comprehensive offer of flights, trains, accommodation and rental cars at the best price and in an instant thanks to our hundreds of partnerships.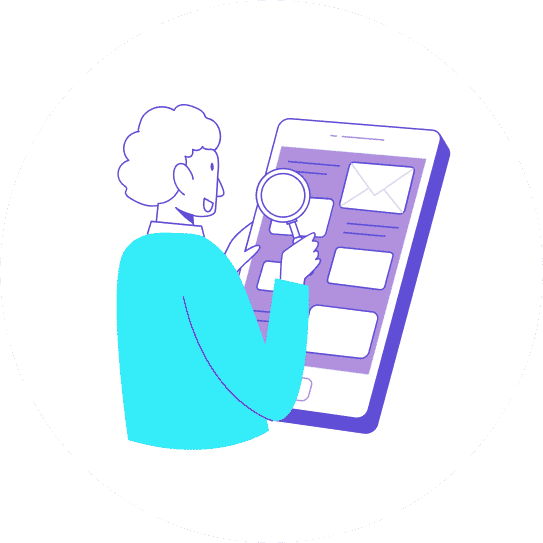 All your reservations in one place
Find all your electronic tickets in your personal space, on computer or smartphone. Your information is already registered (passport, loyalty program, reduction card…), you just have to travel!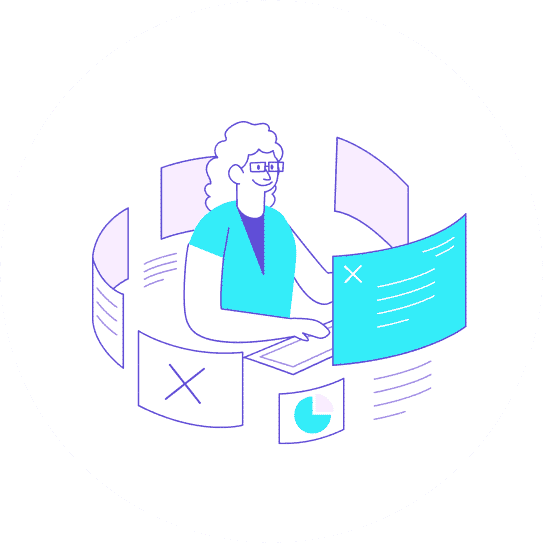 Your 360-degree digital travel manager
Save time, money and carbon emissions with our personalized recommendations. Our B2B travel search engine enables route optimization based on cost and carbon footprint.
Avis Google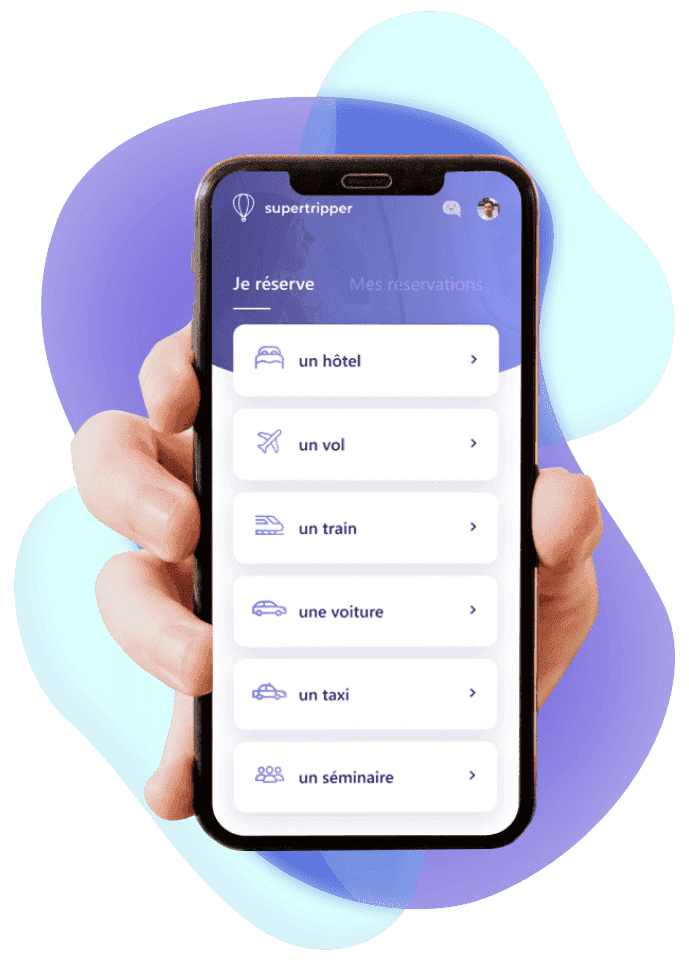 The best mobile application to manage your business trips
Equip yourself with the most complete travel management application that best suits your needs, and those of your teams. Multi-use and suitable for mobile workers, Supertripper is available everywhere, all the time. Supertripper is the ideal solution to organize your business trips with complete peace of mind.
Are you more of the type to do it at the last minute? No worries, book your trip anywhere, anytime and on your terms.
The Supertripper mobile app is designed to make your business trips easier with a fast, efficient and intuitive search for hotels, flights, train tickets and rental cars. The detailed road book of your complete itinerary is available directly on your smartphone.
The business travel app designed
for all smartphones
With its elegant design, our mobile application has been designed to work on both iOS (iPhone) and Android (Samsung, Huawei, Xiaomi, etc.). It can be downloaded for free from the App Store or the Google Play Store and activated as soon as your business account is created.

With an overall rating of 4.9 / 5, the Supertripper app is popular with the majority of business travelers. Our digital platform is revolutionizing business travel planning. Say goodbye to emailing your old travel agent or wasting time looking for the best prices. Our mobile app lets you move smarter and more efficiently.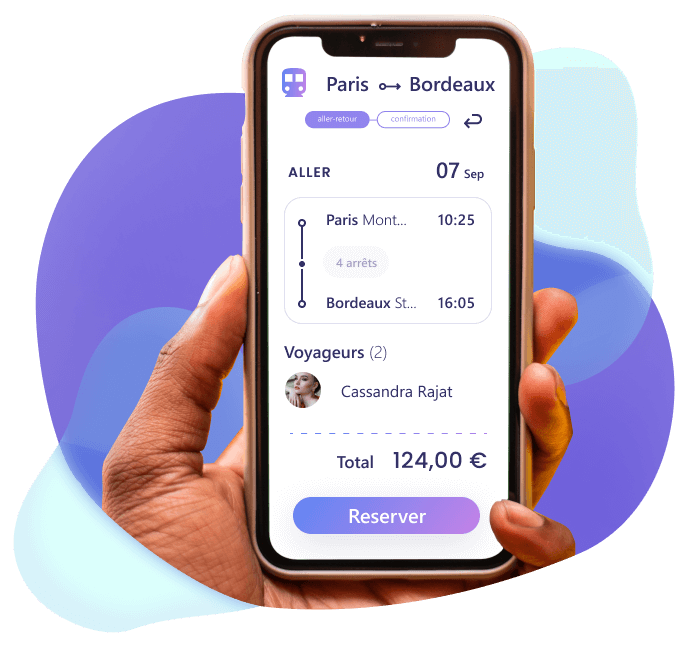 FAQ : Travel Management Software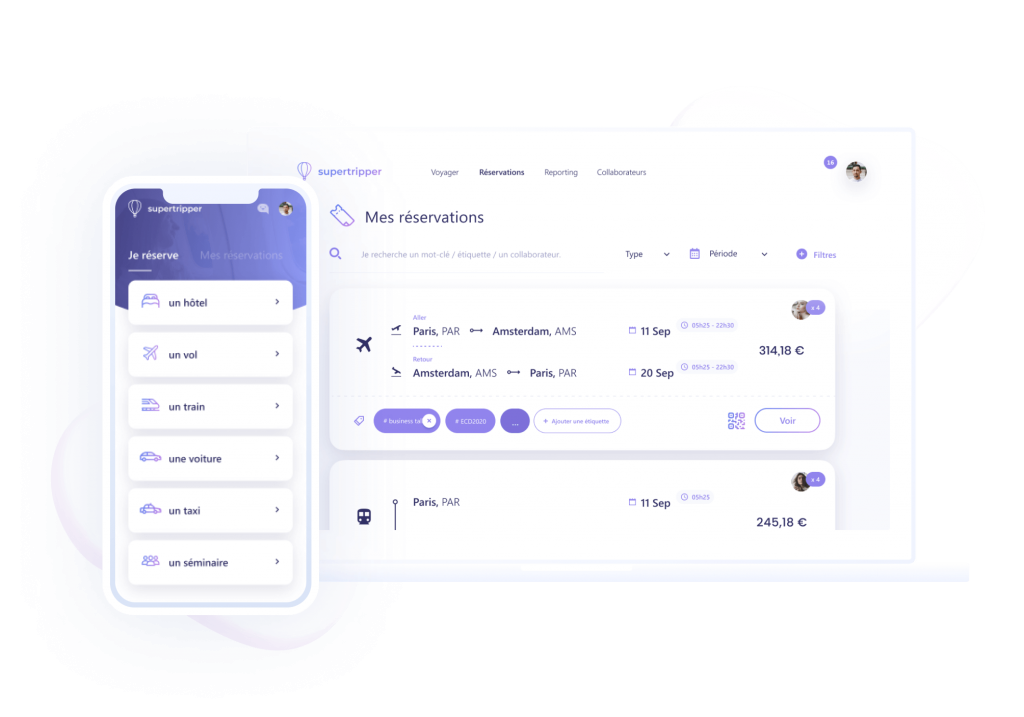 Business travel application and software
The new generation business travel agency